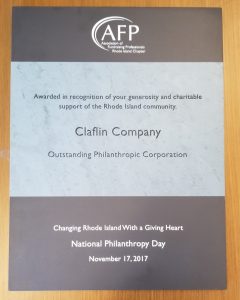 The Outstanding Philanthropic Corporation Award is being presented to The Claflin Company of Warwick. In honor of its 200th anniversary, Claflin is celebrating by strengthening its culture of giving back and performing two hundred acts of kindness.
In the past three years, the Claflin Company has supported dozens of non-profit organizations with donations and sponsorships valued at approximately $500,000. Claflin has committed its support to the March of Dimes' March for Babies and Citizen of the Year events as well as the American Heart Association's Southern New England Heart Walk and the Southern New England Go Red for Women Movement.
Through the years, Claflin has supported all of Care New England's Operating Units by generously sponsoring special events and contributing to vital capital campaigns, while Claflin employees have offered their expertise and leadership on numerous committees and boards throughout the health care system.
In 2016, the Rhode Island Free Clinic recognized Claflin with the Founders' Award for their dedication and commitment to the Rhode Island community and leadership in the healthcare field. The Claflin Company has been an important partner to the Rhode Island Free Clinic for over ten years by providing IT support and on-site IT interns. Seven different interns have contributed more than 280 hours of support, enabling staff at the Rhode Island Free Clinic to focus on what matters most – the patients.
The Claflin Company has a long history of supporting the local health care industry, but the company is now extending its philanthropic reach to embrace children in need in our community, local families living in homeless shelters and soldiers overseas serving our country.
Claflin employees are engaged in their community and have volunteered countless hours and devoted tons of energy to a host of different projects. They have collected grocery items for the Rhode Island Community Food Bank, created welcome home kits for Crossroads Rhode Island, and have served food at McAuley House, Christ Community Kitchen, and the Mobile Loaves and Fishes Truck. Employees regularly write letters and send care packages to soldiers serving overseas to offer support, appreciation and encouragement and they had a team of volunteers help set up the "Operation Stand Down: Boots on the Ground" tribute in Roger Williams Park.
Working together, The Claflin Company and its employees have demonstrated how we can make Rhode Island a healthier state by helping Rhode Islanders in need live healthier lives.