Remembering The Blizzard of '78: A story about community and overcoming adversity.
Author: Ted Almon
February 5, 2018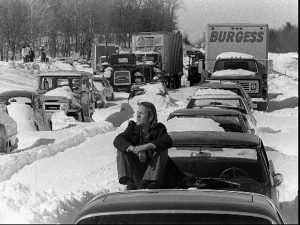 We are reminded by the local news coverage that today is the 40th anniversary of the infamous Blizzard of '78, still the most debilitating winter storm ever to strike the Northeast region, closing down businesses, schools, and pretty much everything else for up to a week or even more in some areas. Streets were impassible for the most part, clogged not only by snowfall that defied measurement, but countless cars abandoned during the storm. Even major highways like I95 had become huge parking lots as commuters trying to make it home found exit ramps impassible, eventually backing up onto the highways inducing permanent gridlock.
As the recovery started, the State's hospitals, still full of patients at the height of flu season quickly became a concern. Our Governor, Joe Garrahy appeared on TV for regular updates on the emergency in his plaid flannel shirt with the sleeves rolled up. He called out the National Guard to help essential businesses to reopen so that critical services could be maintained. One such local business was Claflin Co., a supplier to the State's hospitals, nursing homes, and other healthcare facilities. As it turned out Claflin was quickly able to assemble a skeleton staff of local workers who could walk to the distribution center then located in the Promenade section of Providence in the sprawling old Nicholson File building. Working around the clock with volunteers from the local hospitals and National Guard trucks, we were able to provide the most essential needs of the States hospitals.
Slowly as conditions improved fresh reinforcement workers started to arrive and trucks freed from the clearing highways started slowly to show up with replenishment inventory, but the effort was still round the clock. When more normal conditions eventually returned Claflin found its relationship with the many customers, old and new, that it formed during the crisis had a much different relationship for the experience we had gone through together. It may have been at that time that the company culture came to personify "can do", as we realized as a company and as a community, that any adversity can be overcome by people with the right attitude.