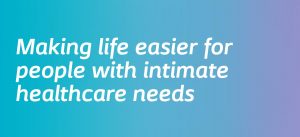 Making life easier for people with intimate healthcare needs
Coloplast develops products and services to make life easier for people with deeply personal and
private medical conditions. These conditions are often associated with trauma and taboo. The more
intimate the condition, the greater the requirement to come closer to customers, understand their
world and develop solutions that are sensitive to their special needs. We call this
Intimate Healthcare.
Our values
---
Closeness…to better understand
Passion…to make a difference
Respect and responsibility…to guide us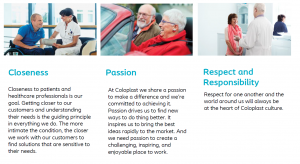 Our vision
---
Setting the global standard for listening and responding
Listening and responding has always been an integral part of what we do. We have gained a great
deal of knowledge through working with the people using our products and healthcare professionals.
We strive to make a difference for people using our products and their families by giving them
information about the conditions that affect their lives. For healthcare professionals, we can
offer educational materials and a variety of
other reference sources.
Ostomy Care / Continence Care / Wound & Skin Care / Urology Care
Coloplast Corp. Minneapolis, MN 55411 / 1-800-533-0464 
www.coloplast.us The Coloplast logo is a registered trademark of Coloplast A/S. © 2016 Coloplast Corp. All rights reserved